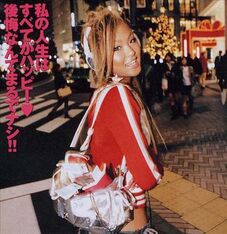 B-Kei, or B-Gyaru, is a sub-style of gyaru. The name is widely considered to stand for 'Black Style' and is a style that heavily appropriates African American Culture.
The style represents a rebellion against traditional Japanese ideals of beauty, which is overall the origin of Gyaru style itself. B-Gyaru places an emphasis on urban culture, especially the music and fashion of hip hop and RnB.
Style Characteristics
Medium to heavy tan
Dyed hair to be light brown, blonde or unnatural
Hair styles come in all shapes and lengths, braids, tight curls and cornrows are often seen
Lots of bright colours, white and gold are often seen
Standard gyaru makeup, with sometimes heavy focus on the eyes
Clothing style itself varies to what is popular in HipHop & RnB
Heavily deco nails are common
Leopard print is a very common pattern seen
Sneakers and heels are both frequently seen
Modern B-Kei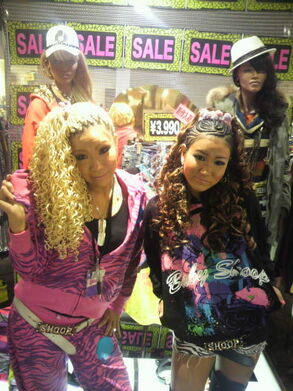 B-Kei/B-Gyaru is no longer a common style of gyaru in Japan and the style is not particularly popular with Gaijin Gyaru. There has been a strong development over the years that many do not consider B-Kei to be a Gyaru style as the style has dissociated from the original Gyaru standard. However this does not mean the style is completely dead, and a possible revival could be on the cards in the event of an increase of popularity and interest in Gyaru.

There has also been some discussion and mixed feelings throughout the years towards this style in terms of whether it raises an issue of racism, and this is a common discussion with many styles of gyaru which involve dark tans and/or incorporating the style of another culture.
Black Lifestyle In Japan
The following is a video documenting B-Kei/B-Gyaru fashion and lifestyle, where it comes from and what it represents to japanese women.
Examples