Black Diamond are a Gyaru Circle in japan. They are often referred to as the 'Top Gal Unit'. Primarily, Black Diamond as a whole identify as 'Kuro Gal', meaning 'Black Skinned Girls', although some members represent Yamanba and Manba. The circle boasts over 100 members and host many meetups based in Shibuya.
The group has a complex system within the members where each district has its own 'leader'.
Often in interviews, members of Black Diamond tell of their goal for world domination, and state they want to 'make all girls gyaru'.
The unit are currently trying to revive the dwindling popularity of gyaru, and often reach out to international fans to boost the interest in gyaru. The group started a facebook page in June 2012 to be able to interact with people across the world and spread the word of gyaru.
Black Diamond have released two Singles. AVAND GYARUDE and CRAZY TRIBE, both of which have music videos featuring the gal unit.
AVAND GYARUDE was streamed to 122 countries worldwide on release and the group has since performed overseas.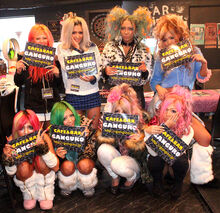 The group also have a cafe in Shibuya, where you can both get food and drink and meet the gals themselves.
They often dance para para and sometimes sing for customers. You can also, for a small fee, have a complete 'Gyaru' makeover, where the girls will make you over in their typical Kuro Gal style, along with taking Purikura pictures together.
The cafe boasts itself as a tourist spot and the girls promise you a 'crazy experience'.
Community content is available under
CC-BY-SA
unless otherwise noted.