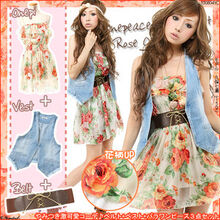 Bohemian Gyaru is a substyle of Gyaru fashion. The style is derived from the typical bohemian fashion style, with a heavy focus on 'peace and love' and featuring lots of earthy tones, peace symbols, flowers and braids.
The style is not very common and is often considered more of a one-off look (i.e. a look that a typical gyaru-kei would wear now and then) rather than its own style altogether, although some gyaru have been known to wear this style primarily.
Style Characteristics
[
]
Hair varies between dark brown to light blonde
Hair is often down, curled or straight and long
Headbands are worn across the head
Floral patterns are common
Flowers, peace signs and hearts are common elements of the style
Shoes are usually flats, sandals or wedges. Heels are sometimes worn.
Clothes are often loose-fitting and airy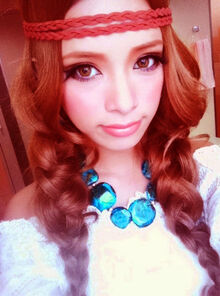 Modern Bohemian Gyaru
[
]
As said before, the style is not particularly common and is not often worn as a whole style and more of an occasional look. That being said, the style is known to pop up on occasion and shows particular popularity during the summer months due to the fitting nature of the style and warmer climates.
Examples
[
]