Content Warning
This media may not be suitable for all audiences.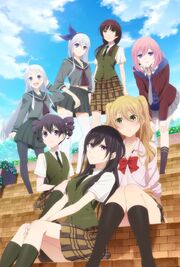 Citrus is a manga series that ran from 2012 until 2018. It received an anime series in 2018. The protagonist of the series is Yuzu Aihara, who dresses in the Kogal style.
Production
[
]
The orignal manga ran from November 17, 2012 to August 18, 2018. The anime adaptation ran from January 6, 2018 to March 24, 2018, with a total of 12 episodes.
Synopsis
[
]
During the summer of her freshman year of high school, Yuzu Aihara's mother remarried, forcing her to transfer to a new school. To a fashionable socialite like Yuzu, this inconvenient event is just another opportunity to make new friends, fall in love, and finally experience a first kiss. Unfortunately, Yuzu's dreams and style do not conform with her new ultrastrict, all-girls school, filled with obedient shut-ins and overachieving grade-skippers. Her gaudy appearance manages to grab the attention of Mei Aihara, the beautiful and imposing student council president, who immediately proceeds to sensually caress Yuzu's body in an effort to confiscate her cellphone.
Thoroughly exhausted from her first day, Yuzu arrives home and discovers a shocking truth—Mei is actually her new step-sister! Though Yuzu initially tries to be friendly with her, Mei's cold shoulder routine forces Yuzu to begin teasing her. But before Yuzu can finish her sentence, Mei forces her to the ground and kisses her, with Yuzu desperately trying to break free. Once done, Mei storms out of the room, leaving Yuzu to ponder the true nature of her first kiss, and the secrets behind the tortured expression in the eyes of her new sister. [1]
For more information on the series, visit the Citrus Wiki here.
References
[
]