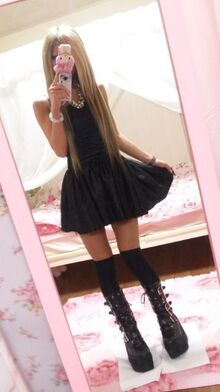 Goshikku (ゴシック; Gothic) is a sub-style of Gyaru, which incorporates goth fashion and style.
Similarly to Rokku, this is a gyaru style which does not require a tan whatsoever, and is actually emphasized by blue skin. This style is commonly confused with Rokku style, Goshikku is actually its own style with its own defining characteristics. The Goshikku style is however not as popular as Rokku style.
Style Characteristics
[
]
Hair colour is often black, white, grey or blonde. Some colour is sometimes seen.
Clothing is almost all primarily black or grey, with sometimes very small amounts of colour or white print.
Shoes range from platforms, flatforms, heels and dolly shoes.
Often more understated than Rokku
Although studs and pins are seen, not to the excess that is seen in Rokku
Makeup is very precise and dark. Lips are either nude or a dark lipstick.
Modern Goshikku
[
]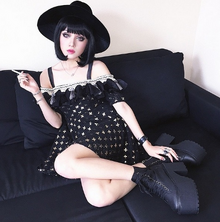 Unlike Rokku, Goshikku is not as popular today, although it is a style that some gyaru still wear. Due to the increase in popularity of 'casual goth' style, and seeing many goth clothes entering high street stores between 2012-2014, the style still has a pulse to some degree, and it remains to be seen if the style may still revive its popularity as the popularity of gothic fashion increases.
Examples
[
]