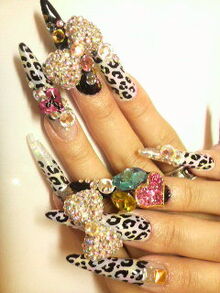 Gyaru Nails is a term generally used for the nails worn by Gyaru. Usually, it means heavily decoden nails that are a part of a majority of Gyaru sub-styles.
However, not all gyaru opt for this sort of nail style, and there is no 'cookie cutter' way to have you nails in any Gyaru style. Some gyaru prefer natural nails, french manicures, short and painted or long and painted.
In terms of this article in particular, we will be focusing on decoden nails which are often seen as a part of gyaru. Just as decoden is its own trend originating in japan, it has become one of the things that gyaru as a fashion and lifestyle associates with.
In order to achieve these nails, many Gyaru go to a nail salon to get their nails done. Nails are often extended with long tips and done as either acrylic nails or gel nails. Some Gyaru do their nails themselves at home or get help from friends, as this is often much cheaper.
Gyaru who are familiar with decoden are known to also make false 'stick on' nails themselves, or alternatively you can purchase stick on gyaru nails from various stores online. Stick on nails allow the wearer to have the effect of gorgeous gyaru nails without the commitment and upkeep of having acylic or gel nails.
Examples
[
]