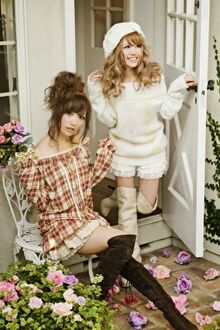 Roma Gyaru is a sub-style of Gyaru. It stands for 'Romantic Gal' and holds many similarities in style with Hime-Kaji but is in fact its very own style. The colours are more subtle and muted and patterns range from floral to plaid and polka dot. The style is very relaxed and considered one of the more 'casual' gyaru sub-styles.
Style Characteristics
[
]
Hair is often ranging from dark brown to medium blonde
Prints include gingham, polka dot, plaid and floral
Lace is found on some clothing but not as much as Hime styles
Boots are often worn, as well as heels with knee-highs
Hair is often curled and worn down or in a messy up-do
Makeup is very simple gyaru style makeup
Nails are often just plain or french manicured
There is a focus on comfort and cuteness
Modern Roma Gyaru
[
]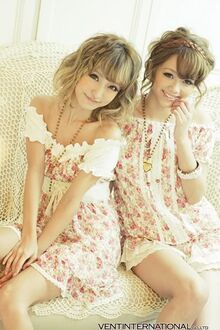 Roma gyaru was always one of the lesser-known styles of gyaru for the majority of the gyaru style's boom period, however it has still retained a solid following to this day and is worn by some gyaru.
It is often a style worn interchangeably with Hime-Kaji and it is not uncommon for the two styles to be mixed. Similarly to Bohemian Gyaru, it is also a style that can be worn as a 'one-off' or on occasion rather than committing to the style entirely.
Examples
[
]